Sparrow >> Service >> Mechanical >> Wheels
1.  Intro
Over their production run, Sparrows were equipped with two types of wheels and tires. The early models were equipped with "Skinny" wheels, while the later models were equipped with the smaller diameter 13-inch rims.
2.  Early model "Skinny" Wheels
3.  Late model 13-inch wheels
Due to center of gravity concerns, and the availability of replacement parts, Sparrows were later built with three matching 13-inch wheels and a modified suspension system and swing arm. The original wheels were made by Primax, size 13x5.5JJ with 4x100 bolt pattern and 38mm offset. Original tires were 155R13, which is a size designation called European Metric. Although you can change the wheels and tires on the Sparrow, wheel and tire replacements are limited by width since it's a tight fit into the fender and front wheel panels.
As of December 2017, the 155R13 tires are no longer readily available; however, a similar size (155/80R13) is a suitable replacement. According to www.moderntiredealer.com (accessed Dec 7, 2017),
"One example of a European metric tire size (with an 82 aspect ratio) is 155SR13, which indicates a 155mm section width, an S speed rating, radial construction, and a 13-inch wheel."
Another online resource www.sumitomotire.com (accessed Dec 7, 2017), confirmed this assertion regarding the aspect ratio stating:
"The aspect ratio is assumed to be 82 if not present in identification number."
The 155/80R13 tires have an aspect ratio of 80, which makes them about 3.1mm smaller radius than the original tires. The overall height would be 6.2mm (approx 1/4") shorter than the original 155R13 tires.
Original 155R13 tire manufacturers included:
| Manufacturer-Model | Size |
| --- | --- |
| Wynstar Phaser 23 | 155R13 79T M/S |
| Superguard SCR | 155R13 78S M&S |
Photo of the exterior of the Primax rim: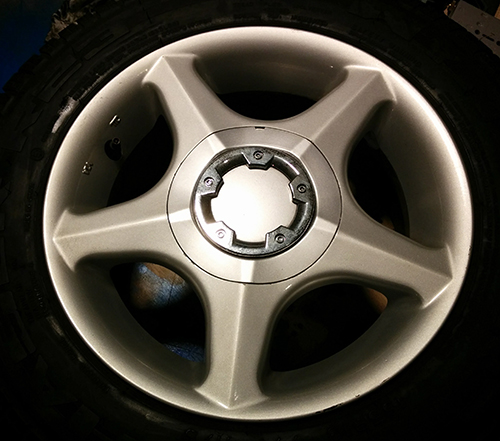 Photo of the interior of the Primax rim: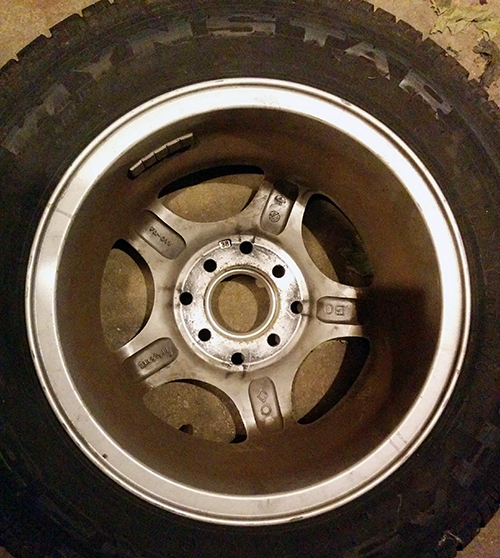 4.  Getting to the steering rack
1. Remove steering column.... a big job.
2. Remove tie rod ends at ball joints
3. unscrew the joints. mark thread count for re-install
4. unbolt the rack
5. wiggly it out...it was wiggle, wiggle, fuss , fuss, pop,, how did I do that?
6. service and re-install.