Sparrow >> Service >> Mechanical >> Brakes
1.  Intro
The Corbin Sparrow is equipped with 3-wheel hydraulic disc brakes plus rear wheel mechanical parking/emergency brake.
2.  Parking/Emergency Brake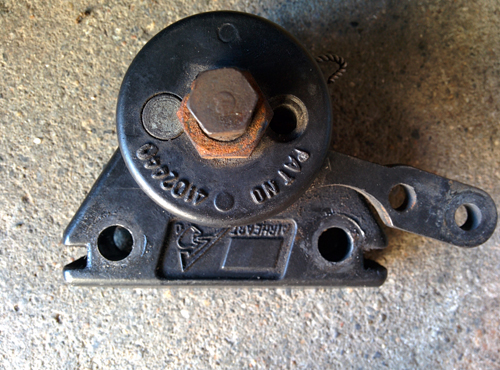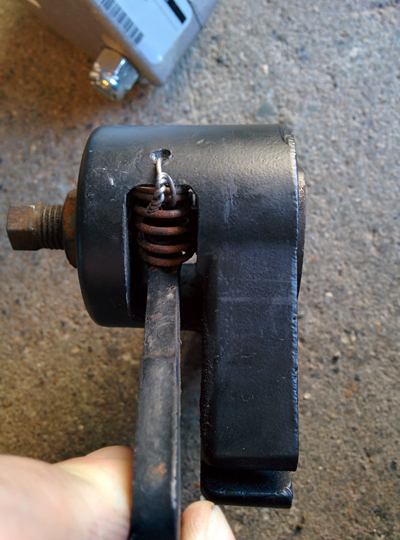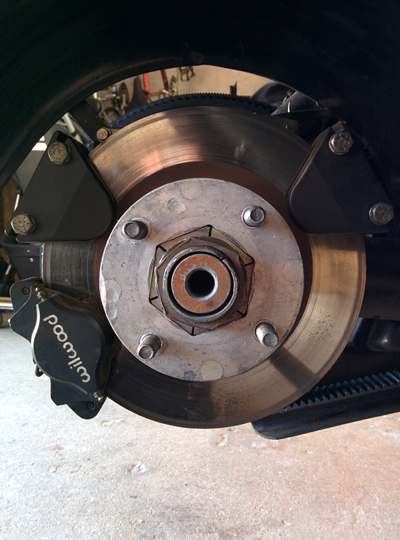 The rear parking brake is a pair of mechanically operated Airheart MB1 calipers made by Tolomatic. They are still in production as of May 2016 and cost under $60 for each caliper - remember that you'll need two calipers for a complete replacement. The different models of MB1 calipers listed reflect the position of the action lever. The calipers can have an optional spacer to extend to fit a brake rotor of .25", which is the case at least on Corbin Sparrow #161. http://www.airheart-brakes.com/cal-mb1.html
It appears that Corbin engineers modified the Airheart brakes to add a return spring under the action lever. Someone inserted a spring in the peg found on the action lever, installed a spring, and twisted some wire to hold the spring in place. This may have been modified by a previous owner with a penchant for drag racing - in an effort to retract as mush pressure from the rotor as possible.
3.  Master Brake Cylinder
The master cylinder for Corbin Sparrow #161 is identical to the stock 1987 Mazda RX-7.
4.  Calipers and Pads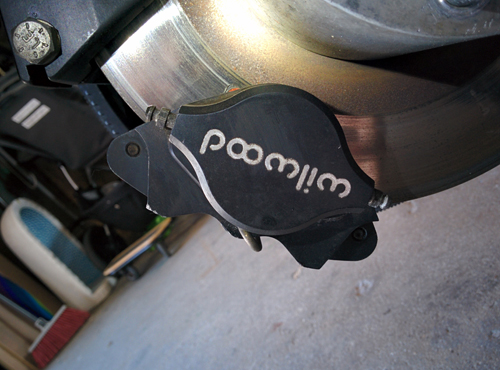 The hydraulic brake system on #161 is made up of 3 Billet Dynalite Single calipers by Wilwood (part number 120-4062) and the appropriate matching 7012 series brake pads. The caliper is mounted slightly differently on the rear wheel brake pad plates require a longer neck for the lock-pin holes. If you use the same pads as the front calipers then the pads extend beyond the disc rotor and don't make full surface contact.
There is much discussion of which density pads to will produce the safest and least noisy braking. It is best to talk to Wilwood directly for this since the pads first used by Corbin have been updated by Wilwood at least twice since 2000.
5.  Rotors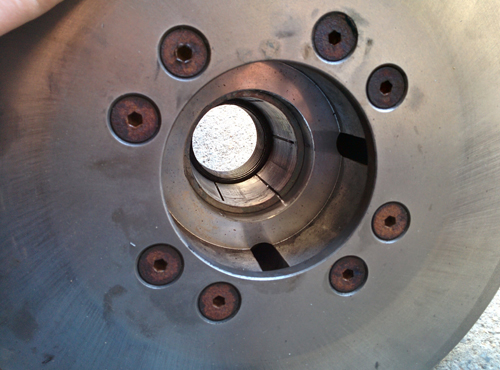 Above is the 8-bolt pattern to attach the disc rotor to the hub.
According to Jeff James (Jan 5, 2016 on the sparrow_ev yahoo group): "The Corbin cars all used Wilwood Rotors made to spec. I don't know if Meyers changed vendors. My suggestion is to contact Wilwood Eng. in Camarillo Ca. and give them your dimensions. They either can make or have something on the shelf."
Myers Motors redesigned the Sparrow rear swing arm for their NMG model. Redesigning the arm and hub gave them the freedom to use stock automotive rotors.